Okay, guys, here it is, that time of year (again) where I try to convince you to write a ridiculous amount of words in a month. This time is a little different, it's Script Frenzy!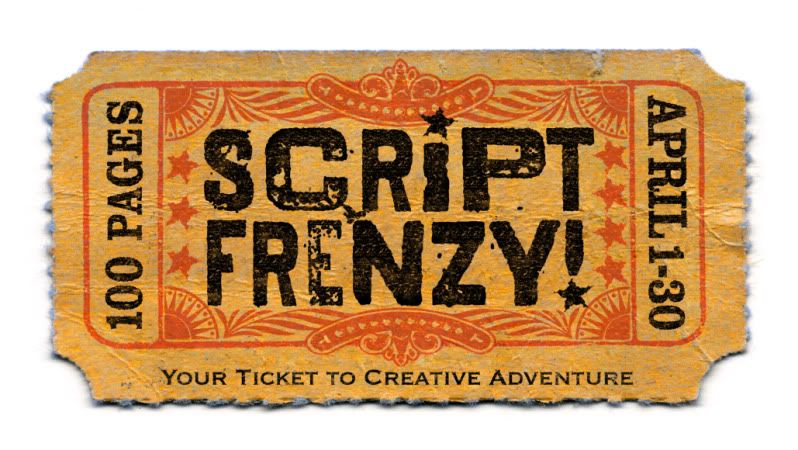 Click the Ticket to get more information about Script Frenzy!
I've never written a script before, so I'm not entirely sure what to expect. But from what I understand, though, it's only about 20,000 words total (as opposed to 50,000), and it's only 100 pages, with really wide margins. I mean come on, it basically seems like you have to write an essay, but you're ALLOWED to cheat when it comes to margins.
Screenplays, stage plays, web series, TV shows, short films, and graphic novels are all welcome, as long as the end result is 100 pages. It can, of course, be about anything. Think about it, you get to 50 pages, you run out of juice, start a new screenplay. The rules here are significantly more lax than NaNoWriMo....I just hope writing a script is as easy as I say it'll be....*Coughs nervously*. I will be here, though, throughout the entirety of April to tell you my downfalls, by triumphs and tribulations, and to hopefully be as supportive as possible.
So, here it, is. Another challenge. Another opportunity for bragging rights. Another 30 days of junk food, coffee and that weird twitch you get when all you can think about is your main character. Also, bonus, this time we get to open our windows, or write outside! It's spring!
So, it might be easy, it might be terrible, but it's certainly going to be fun. Are you in?