Hello all you crocheters, people who like tiny adorable things, and fellow geeks out there. Today, I'm here to share with you my pattern for The Littlest TriForce (Pillow)!
I actually made this for my boyfriend for our second Valentine's Day together, and I decided to improvise a pattern for something we'd seen pictures of online, and he'd mentioned wanting for awhile.
Unfortunately, while my pillow came out a little shorter and fatter than I had expected, but I found it really adorable in it's own way. If you'd like to make your own Itty Bitty TriForce, here is the pattern. You can always improvise to make it bigger (or smaller), if you'd like.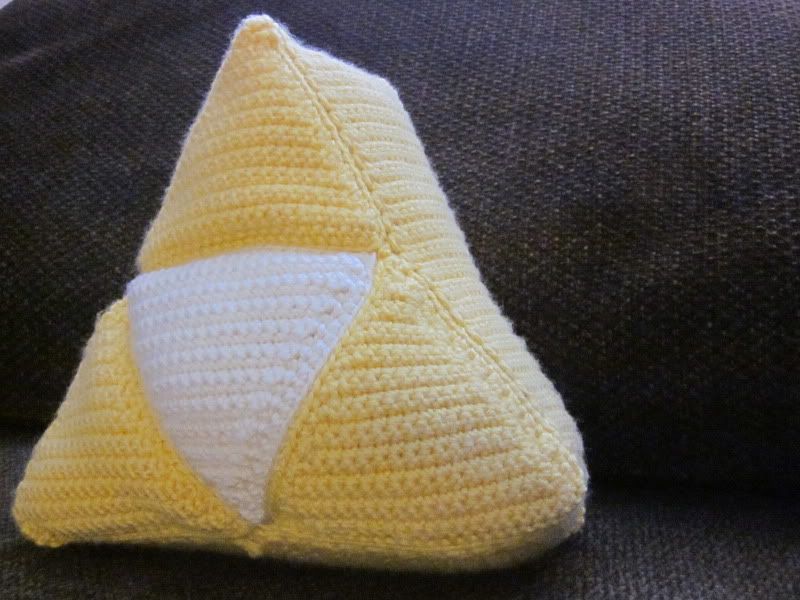 Triangles (Make 8. 6 Yellow, 2 White, to make 2 triforces):
Ch 25
Row 1: Sc in 2nd ch from hook and each ch across to end, ch 1, turn.
Row 2: Sc first 2 sc tog, sc to last 2 sc, sc last 2 sc tog, ch 1, turn.
Row 3 through 25 - Repeat rows 1 and 2, crocheting in every stitch on odd numbered rows and sc 2 tog on each end of even rows.
Border - Ch 1, sc evenly around tree edge, ss to first sc, finish off, weave in ends.
Sew the Triangles together as pictured, set both triforces aside.
Edging:
In Yellow, Ch 14. Now sc across until your strip of fabric is long enough to go around the triforces. For me, it was about 33".
Sew it all together! I sewed one triforce to the edging, then the second, being sure to sew it on inside-out, then turning it so it wasthe right way. I left a slot at the bottom for the stuffing to be put in, and then sewed it up after I filled it with Poly-fil.
Now you have your own little Triforce! Have fun :)