My Dad and I have birthdays that are exactly two weeks apart (his being March 20th, and mine being April 3rd). Since he lives about an hour away, we usually celebrate our birthdays together, and this year the deal was that he would pay for dinner if I supplied the cake.
He told me this about a week or two ago, and I spent some time looking through recipes on my bookshelf, my Pinterest, on baking blogs, and everything else you can think of. Everything seemed either too expensive, or just not quite right. I pretty much knew I wanted to make a cheesecake, but not much else.
After enough searching, I decided that I wasn't going to find the right thing.
My mind kept, for some reason, going back to a day in December when my boyfriend made us some hazelnut hot cocoa with orange peels boiled in, to make a delicious and rich orange-y, chocolate hazelnut goodness. Something about the combination of these things really stuck with me, so much so that I decided to make a cheesecake that would combine these flavors.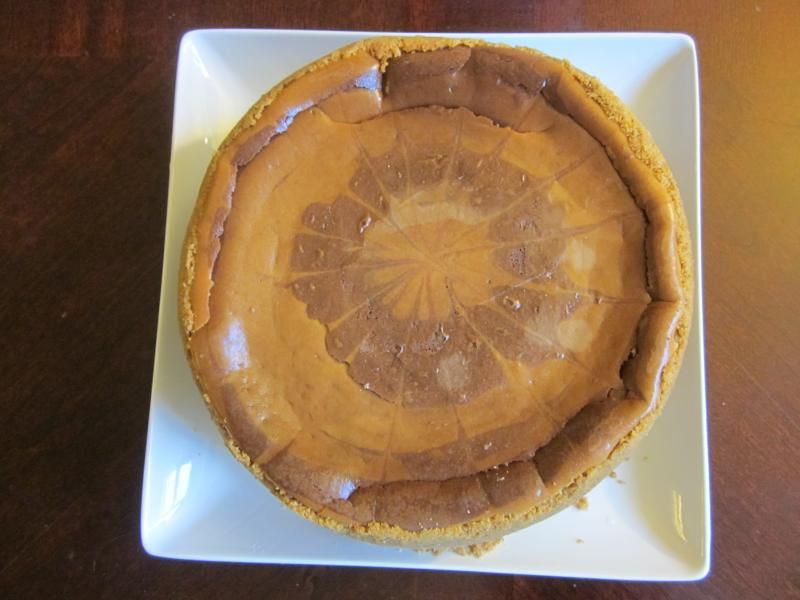 My 2nd inspiration for this cake was a cheesecake recipe on tablespoon.com. I used the recipe for their rainbow cheesecake a little over a year ago for my friend's birthday. I loves combining colors and making layers, and it seemed like orange and brown would go really well together (although, there was no dye in this cheesecake, so it's actually a brown and off-white, but a girl can dream.
I made this cheesecake, and it went over SPLENDIDLY.It's very rich and creamy, and the layers look beautiful stacked on top of each other. The orange compliments the subtle hazelnut flavor perfectly, and it's just right for a spring birthday.
Most of the credit for this cake comes from
this recipe
at Tablespoon.com, I pretty much just added the orange and nutella flavors. The guys over there really know what their doing, because this cheesecake is seriously gigantic and delicious.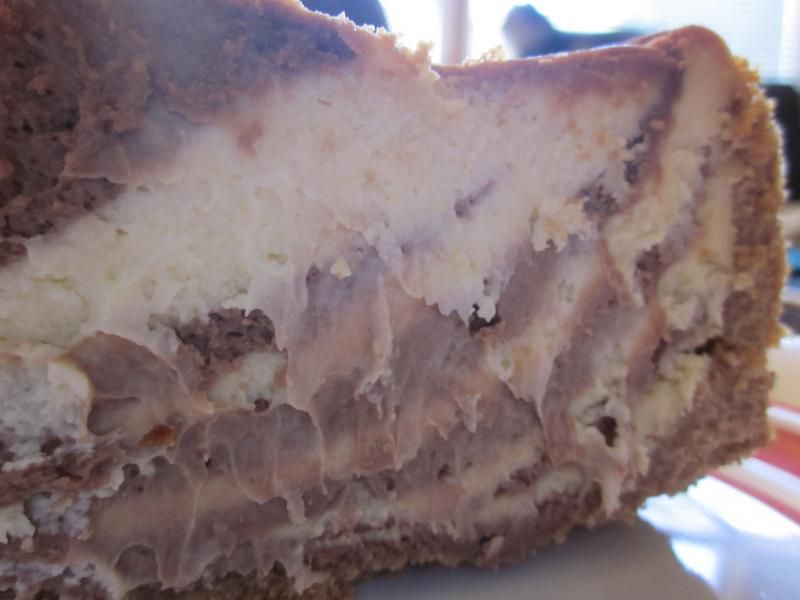 Ingredients
Crust
2 cups finely crushed graham crackers

2 tablespoons sugar

½ teaspoon ground cinnamon

1 pinch salt

6 tablespoons unsalted butter, softened
Filling
4 packages (8 oz each) cream cheese, room temperature

1 1/3 cups sugar

2 teaspoons vanilla

1 pinch salt

1 cup sour cream

1 cup heavy cream

4 large eggs

1 (13 oz.) container of Nutella

3 TBS orange juice concentrate (thawed)

Zest from one orange
Directions
Preheat oven 350 degrees. Before you get started with the crust, make sure your 9 inch springform pan is water tight. I do this by carefully wrapping a few layers of foil on the outside of the pan, so water cannot get into the pan. Be careful not to rip the foil or water will get into your cake and ruin it!




Mix crushed crackers, 2 tablespoons sugar, the cinnamon and salt together in a bowl. Then mix in butter with your clean fingers, until crumbs are pea sized.




Press all of the graham cracker mixture into the prepared springform pan. Press it down firmly in the pan.
Bake the crust for 10 minutes on a low oven rack. Remove from the oven, and cool completely before continuing. Turn oven temperature down to 325 degrees.
To make filling, cut cream cheese into pieces and add to a mixing bowl. Whip until smooth, maybe 4 minutes. Then add 1-1/3 cups sugar, and continue to beat until smooth again, another 4-5 minutes. Next, add vanilla, salt, sour cream and heavy cream; beat until smooth. Add in 1 egg at a time, beating briefly between each egg.

Once the mixture is well combined and very smooth, divide evenly into 2 bowls. In one bowl, add the orange zest and orange juice concentrate and mix well, set aside. In the 2nd bowl, add the nutella and mix well.

Starting with whichever flavored batter, pour some directly into the center of the cooled crust, then a little more of the opposite flavor. Continue alternating batters by pouring them directly in the center, this will create layers so each slice has equal(ish) amounts of both flavors. Then, to make my design I just ran a butter knife across the top a few times to give it the 'spiderweb' effect

Place cheesecake into a baking dish on oven rack, and fill baking dish (or a deep frying pan!) with boiling water about 1 inch up the side of the springform pan.

Bake at 325 degrees in the water bath for 1 hour and 40 minutes to 1 hour 50 minutes or until set but still jiggles slightly 2 inches from the edge. If cheesecake begins to brown on top, cover loosely with foil during last 5 minutes of baking.

Turn off the oven, open the oven door a crack, and let the cake cool in the oven for 1 hour. The slow cooling will help it not crack.

Loosely wrap the dish in foil so the foil isn't touching the top of the cake and refrigerate for at least 4 hours.

When ready to remove cake, run a clean narrow knife around the edge of the dish, remove the foil, unlock the spring, and carefully lift off the outer ring.