It's been a strange month or two since I posted. I got a new job as a caregiver (it's awesome). While I've been the happiest I've EVER been, it's left me very little time or energy to do the things I like to do, especially with the 50 hours weeks I've been pulling for almost the entirety of May. However, in that time, I've done a few things that I wanted to share with you all.
1. Hair!
My job is pretty fast paced, and the ponytail I've been wearing for the last 10 years just hasn't been able to keep up with me. My hair is a few feet long, and doesn't feel too great sticking to my neck while I'm spending most of my time in an overly-heated building to accommodate all my newly-acquired, but very old, friends. I found a couple things that keep my hair up without actually having to put any work into it.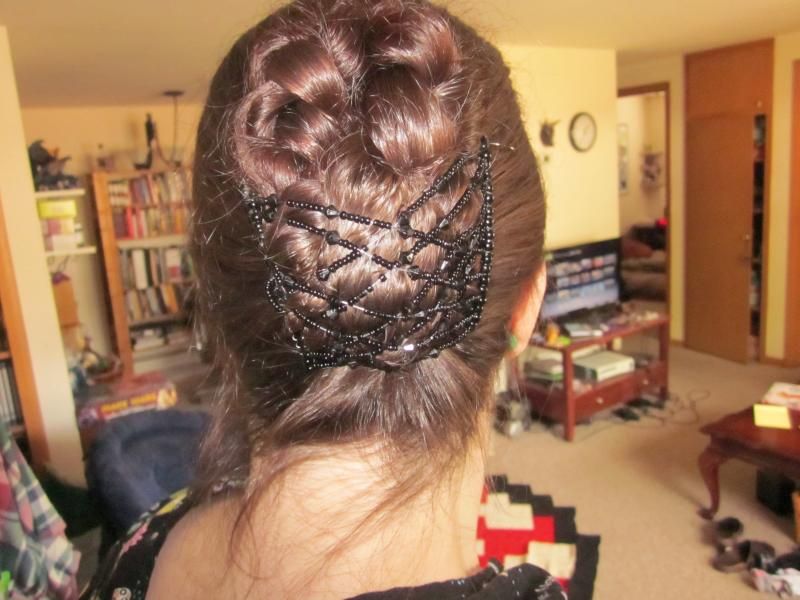 This is an "Up Zing" by Scunci. It's beads strung on elastic, with two combs on each side. I braid my hair, then put it in an elongated bun, then put this over it. I look snazzy, and it's yet to fall out! I got the medium, though, and with all the hair I've got I think a large might work better, since after a couple weeks it started to kind of start pushing into the back of my head (Ouchie.)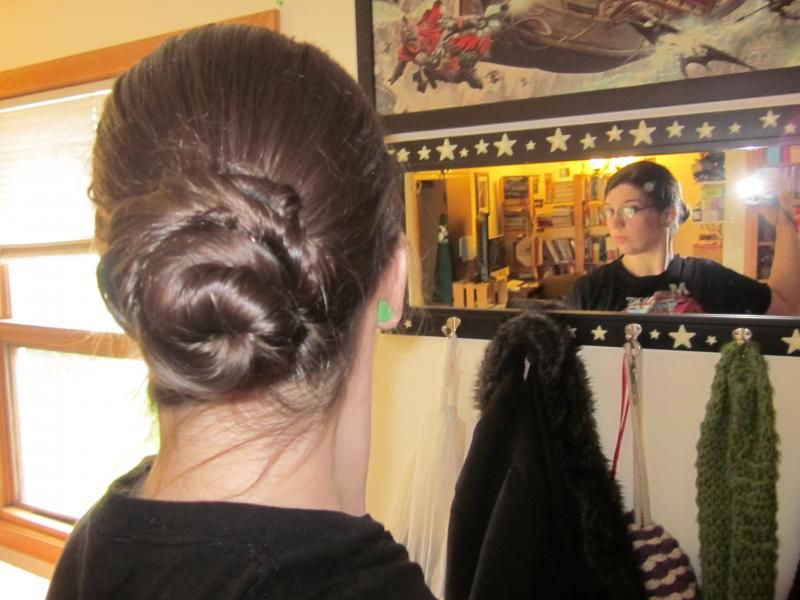 I'm kinda dumb, and forgot what this thing is called, but it's basically a wire spiral. You put your hair in a bun, then spiral this thing onto it, so it makes a neat and twisty looking bun. I haven't worn this one to work yet, because it's not as sturdy as the Up Zing, however, it works well enough for days off during summer, to keep the hair off my neck while I'm doing things outside.
2. Feet!
I've always liked the idea of barefoot sandals, but I'm really not the 'barefoot type'. My Dad's Girlfriend, Tracy, is though- and with her birthday coming up on the 8th, I figured a few pairs of these would be the perfect, quick gift for her. They are, of course, a great warm weather project, too, since the materials for it are so light, and the project is really small. They look great, and I think after making these for her, I might just take a little time to make a pair for myself!
These are just a small mesh triangle with a small band that closes with a button behind the ankle. I think these are kind of cool, but not my favorite. I think they're kind of plain, and fastening a button behind your ankle sounds a lot easier than it actually is. If I made these again, I would instead make the strap about 4 feet longer so that they can be wrapped and tied multiple times around the ankle instead of buttoned. As far as barefoot sandals, and gifts, go- these took about an hour (maybe less), and are a perfect super quick last minute gift. They might also work with flats!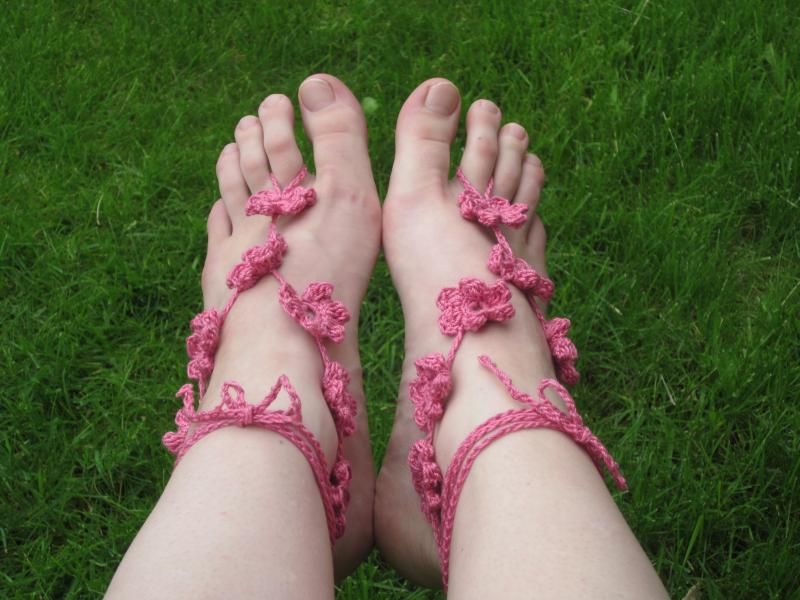 Despite how they look, these sandals are only 2 separate pieces, not 8 motifs. Working all as mostly one piece made them a lot easier than they look, and I think these might be my favorite. I love the color I chose, they remind me of cherry blossoms! I think these are prefect for spending a day in the backyard reading and gardening.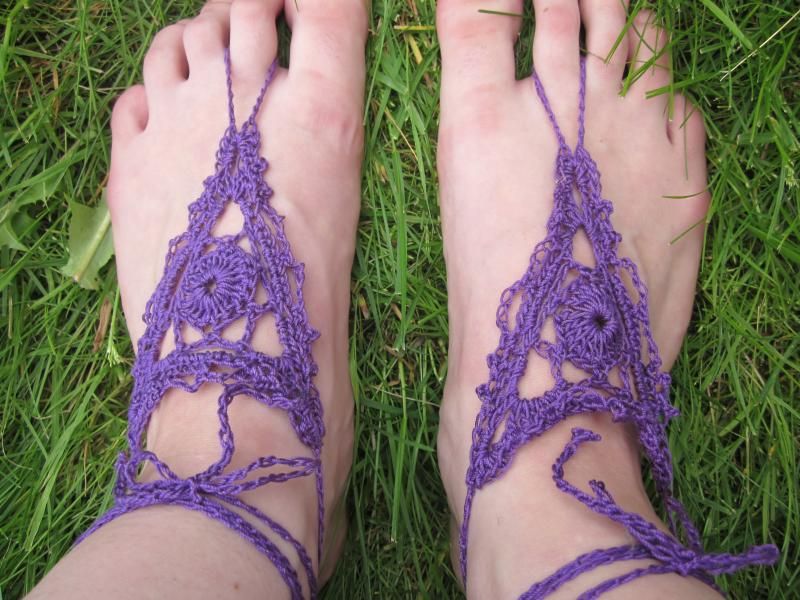 I love finding small projects to make with thread, and I think this one turned out beautifully. These are another pair that I think could work nicely with a pair of flats. I love how Feminine they are, and the Indian influences on the motif make them very elegant. The size 10 thread makes them the lightest of all 3 pairs, and with only 6 rounds, they came together a lot faster than you would think.
3. Pancakes!
My favorite restaurant out here in Madison, WI is a place called Monty's Blue Plate Diner. I have completely run it into the ground. Every time someone asks me where I want to go, Monty's is ALWAYS my answer. The funniest part? I only order one thing when I go there: Zucchini Potato Pancakes. I have ordered them every time I've gone since 2010, and I have yet to get sick of them. They are one of my favorite foods in the world, and I usually finish my entire plate in a few minutes.
So, imagine my excitement, when I went to my local library the other day and found the
Monty's Blue Plate Diner Cookbook
. I'm genuinely surprised I didn't pee my pants when I found the recipe for these pancakes in there.
These pancakes are incredible. Savory, flavorful, indescribable. If you're looking for something different to make for breakfast, lunch or dinner, these went from sliced to served in under an hour, and were absolutely addictive. With a little bit of sour cream, you can't go wrong. My batter looked so strange when I was making it, but I absolutely could not stop eating them, they were so incredible.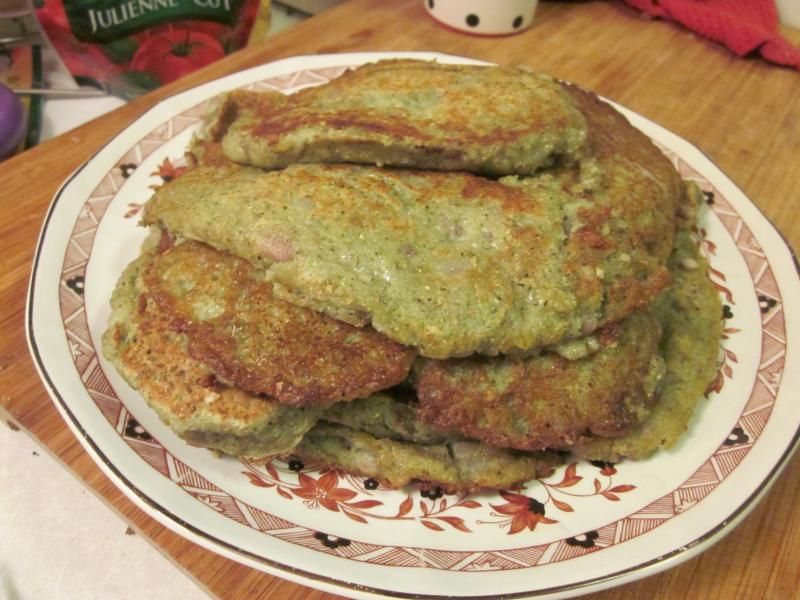 Green Pancakes! This isn't how they look at Monty's, but they managed to taste the same way.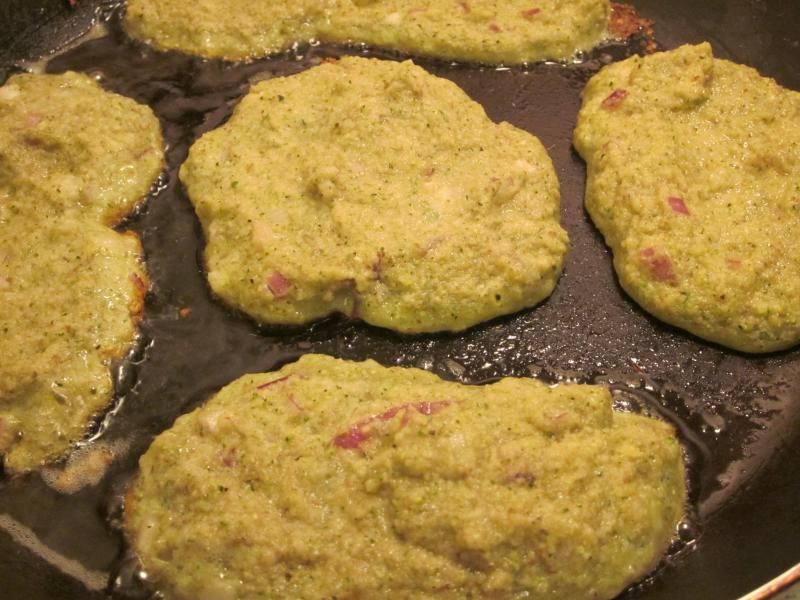 I wish this picture was scratch-n-sniff, so you could understand how amazing they smell.
Got an hour, and about $7 for ingredients? Make your own:
Ingredients:
4 medium zucchinis

2 large baking potatoes

1 medium onion, diced

3 eggs

½ cup flour

1 tsp. Salt

1 tsp. Black pepper

3 TBS vegetable oil

8 oz. Sour cream

8 oz. Apple sauce
Instructions:
In a food processor or with a hand grater, grate the zucchinis and potatoes. Mix these with the diced onion in a bowl.

Make small handfuls and squeeze out the excess moisture. You may be surprised how much water is squeezed out.

In a separate bowl, combine the vegetables with the eggs, flour, salt and pepper. Mix thoroughly.

Scoop 2- to 3-oz. portions of the pancake mix and flatten with a spatula. In a large non-stick frying pan heated with vegetable oil, fry over low to medium heat for 10 minutes. When one side is browned, flip the pancake and fry the other side. The edges should be golden crisp.

Serve immediately with sour cream and applesauce.
Serves 4.
4. Other Junk!
With Father's Day coming up, I got my Dad's present bought and wrapped. I liked the way I did it, so I thought I'd share it here.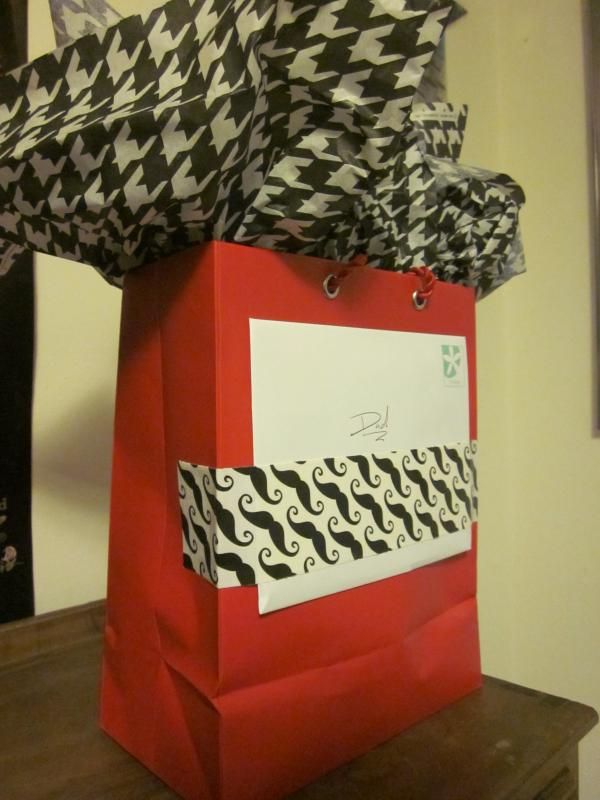 What I did:
- Red gift Bag (Walgreens: $3)
- Houndstooth Tissue Paper (Walgreens: $2)
- Moustache Duct Tape (Got this as a present, but I've seen it at Target, Wal Mart, Walgreens, etc.)
Very manly :)
What I bought him:
- 5 Samples of Berres Brothers Coffee (Highlander Grogg, Caramel Chocolate, French Vanilla, Red Velvet Birthday Cake and Hazelnut Creme). Berres Brothers is a local coffee company out here in Wisconsin, so I suggest you all move to Wisconsin and drink their coffee. Highlander Grogg has become a staple in my house (It's a caramel, butterscotch, hazelnut coffee that smells and tastes like heaven and rainbows).
- Earl Grey Vanilla Rhubarb Jam (My Dad mentioned once that he always sees Strawberry-Rhubarb things, never JUST rhubarb, so when I saw this at a Farmer's Market, I picked it up for him.)
4.5: Other Junk Part 2!
You guys know what's awesome? Sailor Moon. You know what else is awesome? Ebay? So what happens when you combine these two things?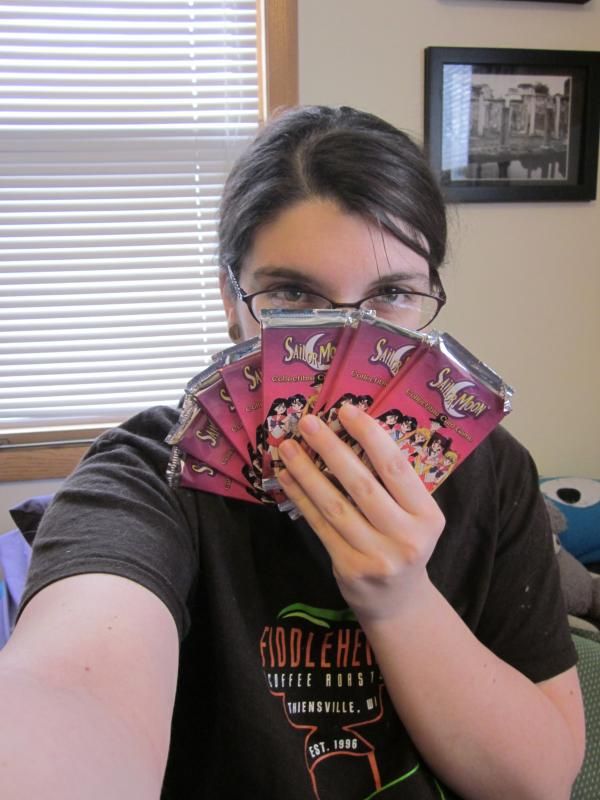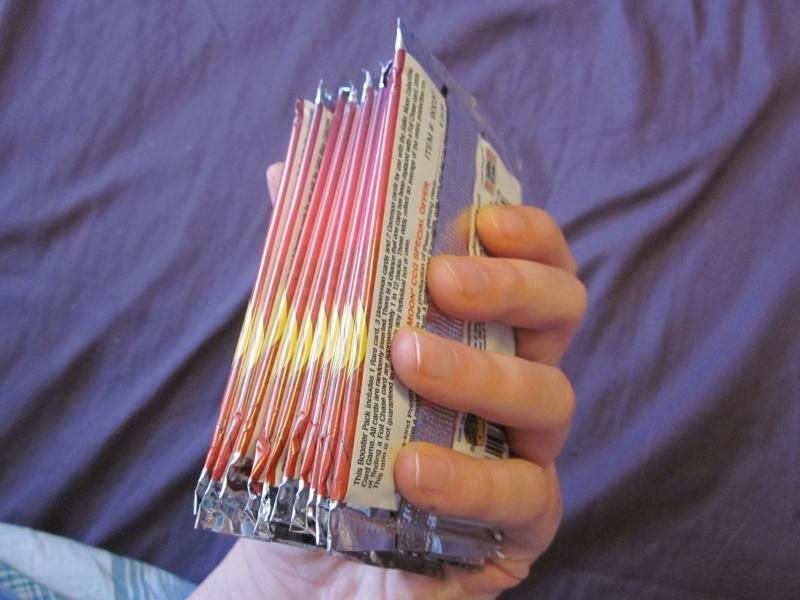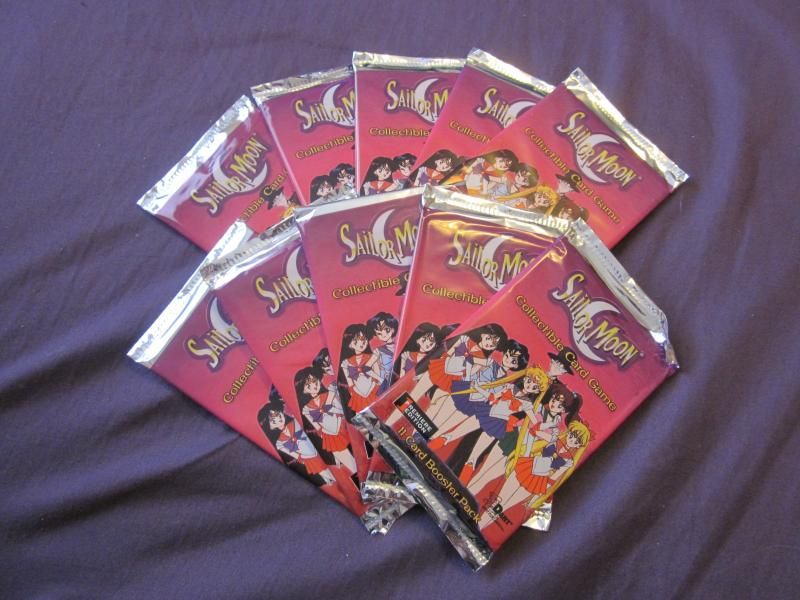 ...You can get 10 Sailor Moon CCG Booster packs for $10.
Anyone wanna play with me? :P