It all started in Kohl's. I had just gotten paid, and eager to spend all my money, went out to buy some (much needed) clothes. Mostly for work, I picked up jeans, looked at button up shirts, and even bought my first pair of leggings, but when I ended up in the clothing section to buy shirts I felt lost and confused. It had been so long since I bought clothes in an actual store (Thank you, TeeFury). From section to section I wandered. Some clothes seemed to be for 14-year-olds, and all the other clothes seemed to be for 40-year-olds. Annoyed, infuriated, and worst of all, holding an armful of nothing but work clothes, I made a declaration to "Just crochet all of my own shirts."
make my own clothes.
I was half joking, but by the time I got home, and ended up alone on Ravelry for a good hour or two, I had looked through all kinds of shirt patterns. I was so excited, the very next day I went out and bought some cotton yarn, then started on a simple-looking shirt,
Light and Lacy by Doris Chan.
I had finished it in an astounding 3 days. It worked up so fast, I was suddenly even more excited by my decision to make all of my clothes. The only problem? It fit about as well as an oversized grocery bag.
I told myself it was okay, that I had never made a form-sitting shirt before. At my size, I've never been a Small before, but it turns out that maybe I should have made a small for this shirt (I made the Medium). It was so baggy on me, that as I wore it, I swore it made me look 30 pounds heavier. I told myself it was okay, but I didn't even have the motivation to tie in the ends. I set it on my dresser, and feeling defeated, went to bed.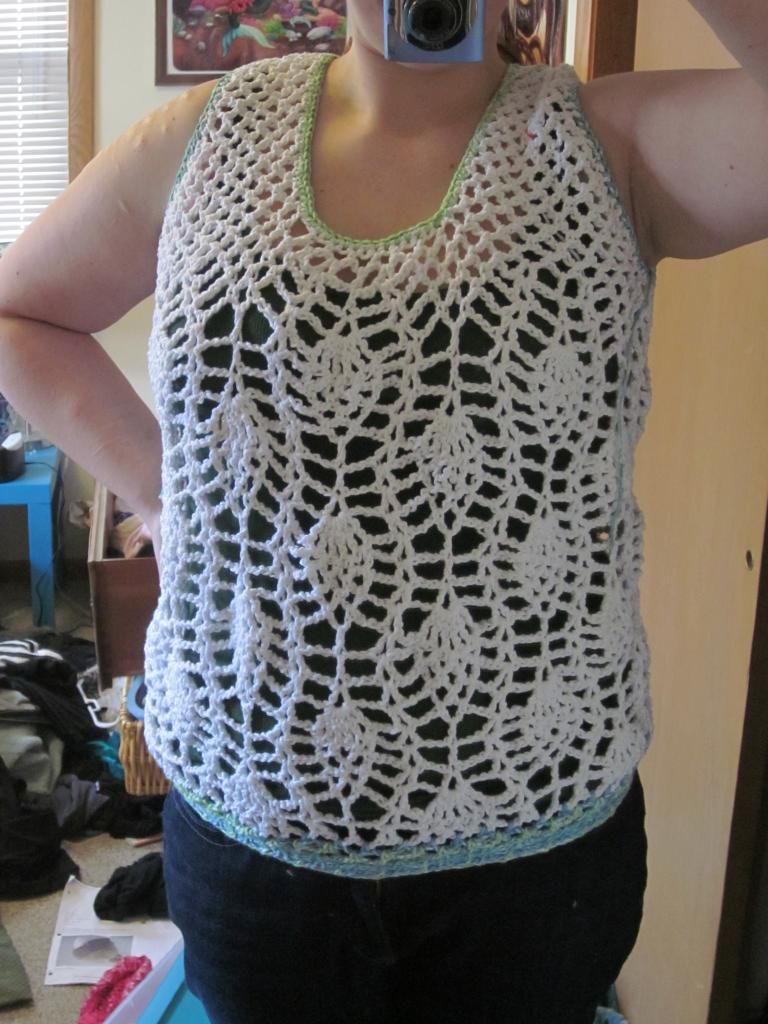 The "Before"
The next morning, I don't know if I had a dream, or if the answer was really just that simple all along, but I woke up so enthused, I knew I had figured out a way to fix my shirt to make it look better.
After much debating, and cringing, I (painfully) ripped out about 75% of my work, then made a band by decreasing the chain mesh.I was really happy that this had been a fast project, because even after ripping out most of my work, it still only took another 3 days to completely finish it. I could make two of these a week if I really wanted to supplement my wardrobe.
By making a band in the middle significantly smaller than the rest of the piece, this pulled it in a bit, then I increased it enough to have it bellow out again. It went from Potato sack to flattering A-Line piece.
(If you are looking for the technical things I did, and how to do this yourself to this shirt, you can look at the notes on my
Ravelry Page
.)
I love it so much now, I can't wait to wear it! Although, with it being made of cotton, and in such sparkly and bright colors, I can't imagine wearing it any other time of year besides late spring and summer.
I have a lot of plans to make more clothes, of course. I even picked up a book from the library today, and without even noticing the author, I got it home, only to realize the patterns were from none other than Doris Chan herself. After finding Light and Lacy, I went through all her patterns to find that I love her style! I guess I can officially consider myself a fangirl, and I look forward to expanding my wardrobe over the next few months. With such a great start, how could I not be excited?