The first three weeks of 2013 have gone by mostly uneventfully. I've been listening to, and even reading, a lot of books, and I still have my crochet hooks stuck into many projects. I've been trying to challenge myself, as well as finish things I started awhile back and never managed to finish. Here are a few things I've done since the new year came around.
1.
Butterfly Stitch Fingerless Gloves.
I spent literally 9 hours straining my eyes on January 1st making these. Having no real New Years resolutions, I was feeling kind of insecure and all I could think was about how I felt like I should at least greet the new year with a challenge. I had the pattern for these in my Ravelry queue for awhile, but had been too intimidated to make them- so they seemed like the perfect challenge for a new year.
A challenge they were indeed. It certainly took a lot of patience and focus, but I managed to finish both of them before bedtime. They look really awesome, and add a nice antique/vintage touch to my outfits. The "Dusty Blue" was the perfect color for them, too. It almost feels like a faded blue in an old picture.
The butterfly stitch was easy enough, it was just fiddling with things such as the size and the thumbhole that gave me a real challenge. Lots of improvising happened, but they both fit and look nice, and isn't that what really matters?
2.
Senorita Skirt
After I finished it, I was pretty mad at myself. I LOVE THIS SKIRT. I love how it fits, I love how I managed to make it the perfect size, and I love how it flares out. The day after I finished it, I went out to buy some faux-cabled sweater tights so I wouldn't have to wait until summer to wear this. If only I hadn't put it down for 6 months to do 2 hours worth of work, I could have been wearing this all along! What an awesome (and seasonably versatile) addition to my wardrobe.
3. I KNITTED THIS COWL.
Here's the doozy, guys. I knitted something. I was so proud of myself when I finished this last night at 1 AM, that instead of folding it up and putting it somewhere safe, I squished it against myself like a security blanket to sleep beside.
For months I have been trying to knit, only for my stitches to slide off of my needles and my day to end in a frustrating yell-a-thon. This time, though, instead of trying the same thing I've tried and failed with 100 times, I switched it up a bit. I got some GIGANTIC yarn (To be exact, Lion Brand's Hometown USA in Oklahoma Green), and then I dug out my Size 19 needles and went to town!
I was so happy to not have my stitches fall off, and get an idea for the tension the yarn should be at, that I genuinely can't wait to knit again. I kept thinking about getting glasses. I remember thinking about how hard I thought school used to be, how all school equalled to me was headaches and squinting, then how much glasses improved my experience. I feel like using metal needles made me think that knitting was this impossible thing that only really talented and smart people could accomplish, at least until I got the right tools, and now everything is so much clearer.
What else have I been up to? Mostly just buying stuff I want to show off.
I used to have a "Crochet Dude" crochet hook case, but last week when the pockets for my tapestry needles ripped, and I opened it one day to find ALL OF MY TAPESTRY NEEDLES GONE, I decided I needed to fix this problem. At Michaels' I found a little Avengers Coin Purse that was Tapestry Needle Sized, along with a matching Avengers Pencil Pouch that was Crochet Hook sized. Best solution, or best solution?
As you can see, I also bought some bamboo knitting needles. I'm hoping these will solve the issue of dropping stitches once I graduate from gigantic needles to more normal sized needles.
As you may also be able to see, I bought the (LAST!!) Rosewood crochet hook at Michael's. They were on sale for $6 (as opposed to $13), and while I'm not entirely sure what the benefits of a rosewood hook are, I do know that I like wasting money on nice things, and this seemed right up my alley.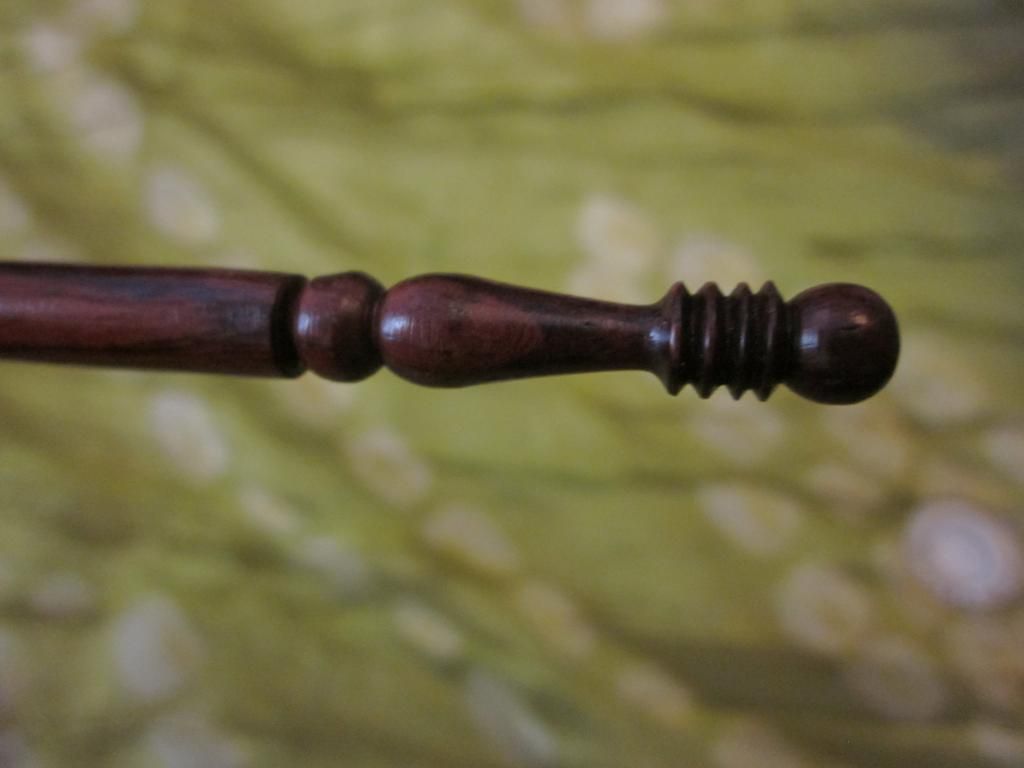 FANCY.
So what's in store? Well, I can tell you that one of my biggest projects is still consistently being picked up everyday, and I still have about 25 hours left on it (I can't waaaaaaaait to show that one off!), and considering how warm and fuzzy I feel when I think about my knitting needles, I can definitely tell you that there will be a lot more of that. Not to mention, my bamboo needles still need to be put to use!