I have certainly been lax with posting my projects lately, aside from writing, but don't think it's because I haven't been doing anything. I don't know if it's worth me posting every little thing that comes off my crochet hooks, but maybe I should be? Hm...maybe I'll have a "what I've been up to" post in the near future...
*Ahem!* Anyway, I am not here to bore you with miscellaneous nonsense, I'm here to tell you about the biggest project I've made so far: 158 4" granny squares sewn together to make a 5' x 5' Mushroom Rug!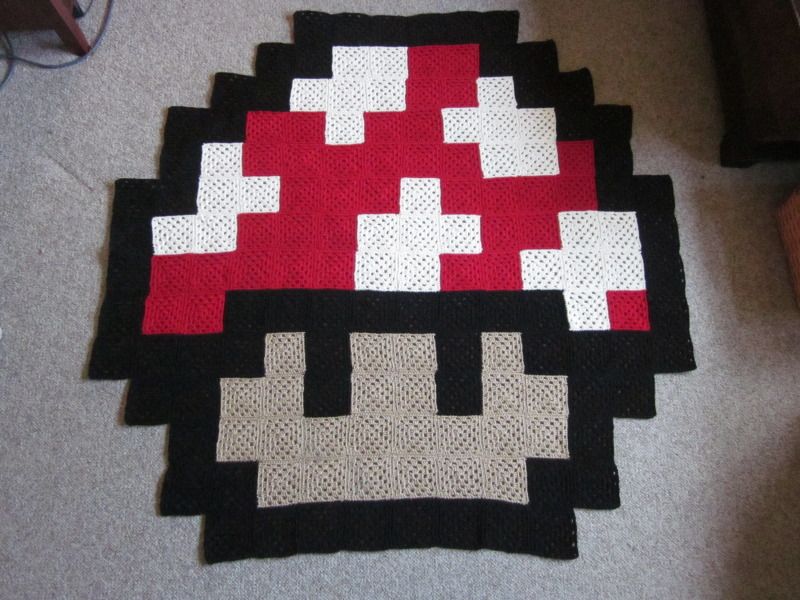 The rug came to be one day when our (expensive) store-bought rug was giving us a lot of trouble, as it was catching all of my long-haired cat's hair, but our vacuum didn't work on it for some reason. We rolled it up and threw it in the basement, and I decided to take on the task of making one.
After scouring Ravelry for literally hours over the next few days for the perfect rug, I saw the pattern for this, looked at Gabe, laughed, and said "We could just have a Mario Mushroom rug."
His reply?
"Yes! Do it!"
We made a deal that he would buy the yarn, and I would make it, which I think worked out really well for both of us, and I ABSOLUTELY love the way it turned out. I've actually recently gone on a bit of a spree looking for other pixel patterns to make smaller rugs and pillows out of! Hopefully those will come to be sometime in the near future.
I can't wait to make more pixel art! But until then, I hope you guys enjoy this one :)






You can get an idea of the size of it by looking into my (only slightly) cluttered living room. Also, say hi to my cat, Walter!