Hey guys! I'm here to shake it up a bit. In this post, I'm going to be holding kind of a "Contest" in order to give out the pattern for my newest creation: A Crocheted Crescent Moon Wand! I've never held any kind of contest before, but I have my reasons, and it's something I've always wanted to do.
When I posted the pattern for my Eternal Sailor Scout Transformation Wand, I didn't get exactly the
constructive
criticism I would have liked. I put a lot of effort and energy into something I loved, and being the good, sharing person I am, I provided it for free to whoever wanted it.
The response I was hoping for was, of course, something positive, but even something negative, or how I could have corrected it, would have been appreciated. Instead, I got rude, crude and insensitive comments about it, with no help about how to move forward with my new pattern-making endeavours. While I received some positive comments, and I appreciated them sincerely, compared to the sea of rude and generally unrelated comments I got, it was hard to appreciate them.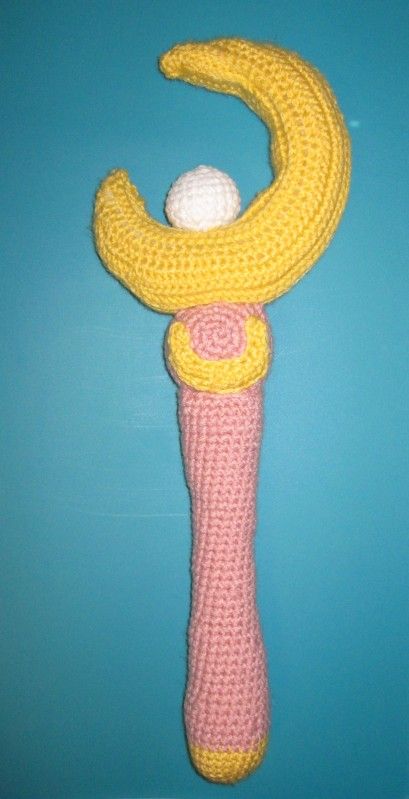 So, in order to get this pattern, here's what you need to do:
Leave a comment on this entry with:
- Your name (or handle you'd like to be called by)
- Your Email (Does anyone know how to screen comments? Otherwise, I will happily delete your comment after I send you the .pdf, so no one else gets your email)
- A 100+ word
constructive
comment about this item. What do you like? What don't you like? What questions do you have about it? What would you change? What needs to stay the same? Keep it constructive, and keep it focused on the Crescent Moon Wand.
That's it! Once I approve your comment, I will Email you a .pdf of the pattern. There is currently no limit of people who can get the pattern, and I'm not currently setting a time limit on this "contest". This may change in the future, but until then, I will be sending the pattern to everyone who earns it.
I hope this works out, and I hope you understand why I am taking these measures. From here on out, I will continue to provide patterns for free and without any hoop-jumping, but if I'm going to continue making high quality patterns, I am going to need to know
where
I need to go, and the only way I can further improve my patterns is from my fellow crocheters. And considering I'm in the eye of the 50,000 word storm known as NaNoWriMo, I figured 100 words wouldn't be a problem for you.
With that being said, I want to talk a little bit about this project. It was a pretty easy, quick project. It measures 16" from bottom of stick, to the top of the crescent. It's rather sturdy, but the crescent is pretty heavy, so it's a good idea to secure it tightly.
I'm having a lot of fun making Sailor Moon wands, so don't be surprised if more of them show up over the next few weeks/months. With NaNoWriMo in full swing, I don't know how many more "big" projects I can create, but we'll see where the wind takes me, I guess.
Anyway, see you guys soon, and I look forward to your critiques :)