I've been so into broomstick lace since I made my
Misty Broomstick Lace Hat
. I guess I was surprised by how easy it is, when I've been feeling so overwhelmed by it for so long. I've made a handful of broomstick laces bracelets over the last week or so, and after my FIFTH one, I thought, what about other broomstick lace jewelry?
I decided to try to make a ring, and although this turn out much bigger than I had anticipated, I still enjoyed the idea of a 'finger cuff', many of which I used to own back in the day when I shopped at Hot Topic ;) These, however, are a little lighter, a little prettier, a lot more elegant, and have zero skulls on them.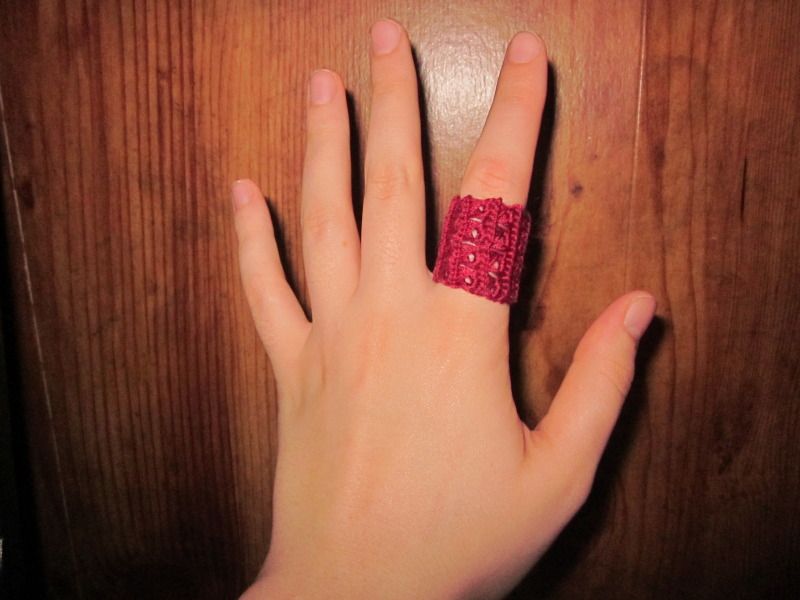 Not sure how to broomstick lace? A tutorial can be found
here
. Otherwise, this pattern will assume you know how to do basic broomstick lace.
What will you need?
- 1.50 or 1.65 MM crochet hook
- Size 10 Crochet thread
- A Size 8 (5.0 MM) knitting needle
- Tapestry needle.
Here's how to do it.
Row1: Chain 17. Single crochet in 2nd ch from hook, and in each ch across (16 sc).
Row 2: Pull up a loop from every sc onto your knitting needle (16 loops). Pull together a group of four loops, ch 1, then 4 sc in the gathered loops. *Pull together the next group of 4 loops, and 4 sc in the gathered loops.** Repeat from * to ** until the end of the row (16 sc, 4 groups of broomstick lace)
Repeat Row 2 until your finger cuff is the desired length. Mine was 8 rows.
Finishing off: Fold cuff so both WS are facing outwards, sl st through both the 1st and last rows to connect. Finish off after connecting last st. Tie off ends, and flip inside out.
Are you going to make one? Where are you going to wear it? I'm not sure what occasions mine is appropriate for, so I wanna hear what you guys are doing with yours! I think it's a nice coffeehouse afternoon accessory, but then again, that's what I think all accessories are for :P!