I don't really know what's been going on with me lately. The weather is in the 70's, and I've only yelled about it a couple times.
See, I like winter. I like putting on sweaters, and drinking hot cocoa, and crocheting with the biggest, fluffiest, fuzziest, softest yarns I can get my hands on, and then wrapping whatever it was that I just made around my neck a good 5 or 6 times, so I can go sit in front of a fireplace at my closest Starbucks. I like snow, and ice and wool socks.
I don't like summer. Summer, to me, is mosquitoes, and sweating, and all my friends saying "Let's eat our dinner outside!" So that I can be swarmed by mosquitoes, while I sweat, WHILE eating dinner. Nothing says 'joy' to me like picking gnats out of my mashed potatoes. Great.
This year seems a bit different, I haven't been bothered by the weather thus far, and I've been all too happy to go out and take walks. The weather has, however, been very inconsistent. Maybe I will look back on this reflection in a couple months when it's 80 degrees everyday, and think "Oh, if only I knew then what I know now..."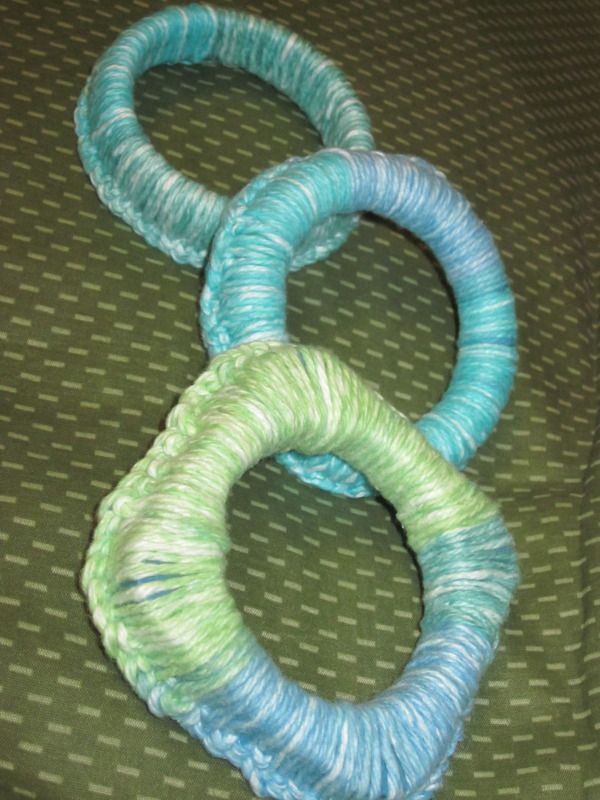 However, in the spirit of enjoying the weather, I put something simple and summery together. I was at Target the other day, and on a whim, nearly cleared out a section of clearance bangles (They were $1.20 each! At that price, how could I afford NOT to buy them? Amirite?!). Basically, I took cheap, semi-broken bangles and single crocheted over them with a light, cotton yarn (Lily Sugar n' Cream Stripes, the colorway "Country Stripes"). I LOVE this yarn. I'm already rather partial to cotton yarns, but this yarn reminds me so much of the Chesapeake Bay, where I used to live, my heart feels heavy as I write this out, and I don't know how good it is for my health to think about it too much. The yarn is 4 colors that all shined through over the 3 bangles I made, and are so reminiscent of the Bay waters, looking down at them makes me reminiscent enough to keep rambling (but I will spare you all). On top of that, it's light, so it won't be too hot to wear in the summer. My favorite part? Only using one yarn, and making 3 distinct and individual bangles.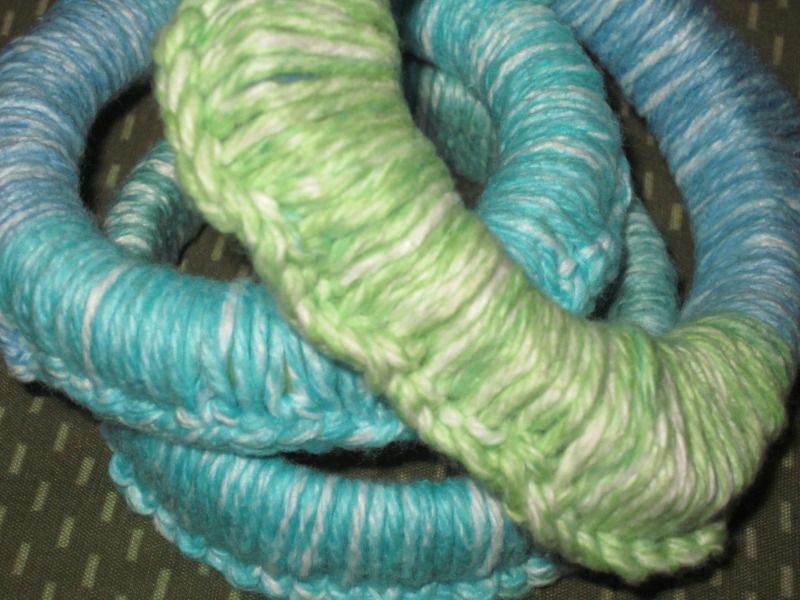 Ah, I've been rambling more than usual. I'm actually hoping to do some real writing after this post, so my creative writing juices must just be spilling over. Also, my coffee is totally working (It's peanut butter coffee!)
*Ahem*
Here's how to do it:
What you need:
- Bangles! I used 3 kinds, a flat one, a round one, and a square one. The square one was weird, but works well enough. I will use the flat one as an example, since it is the simplest.
- Yarn, preferably cotton yarn so you can wear them in warm weather, but to each their own.
- Crochet hook. I used a size G hook, but I'm not entirely sure if this matters.
- Tapestry needle
First, Slip stitch around the bangle, then ch 1.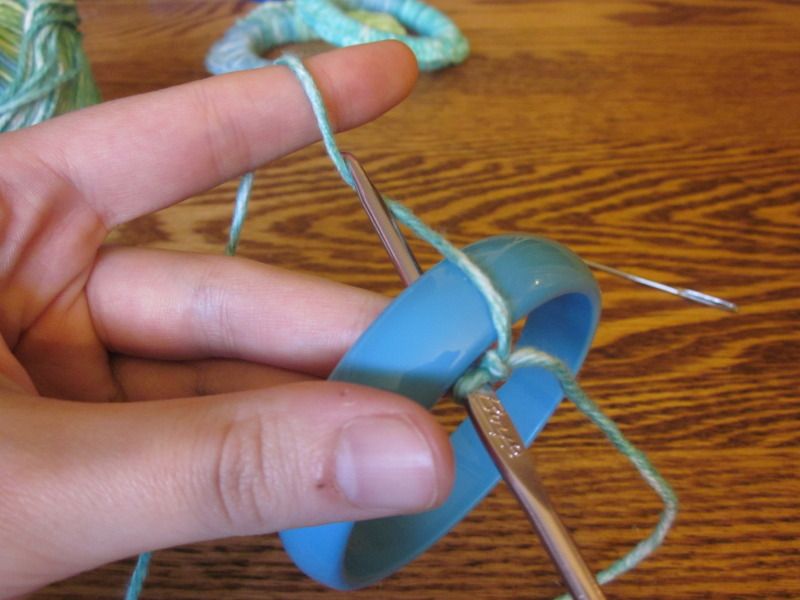 Because of the thickness of the bangle, you will have to reach your hook out about an inch. Be more aware of tension, and it will turn out fine.
After your sl st ch 1, you will just do single crochets all around the band.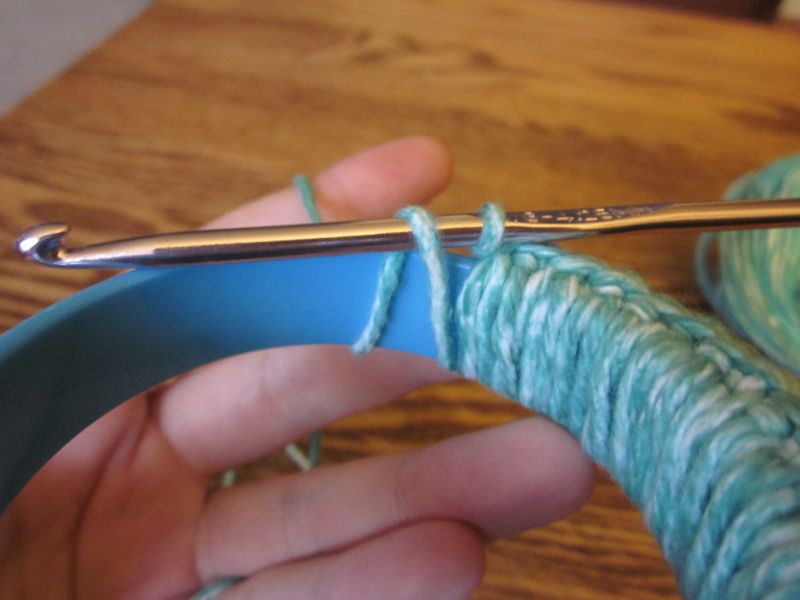 Pull your loop up more than usual, to meet the top of the bangle
Pull through one loop, then both loops.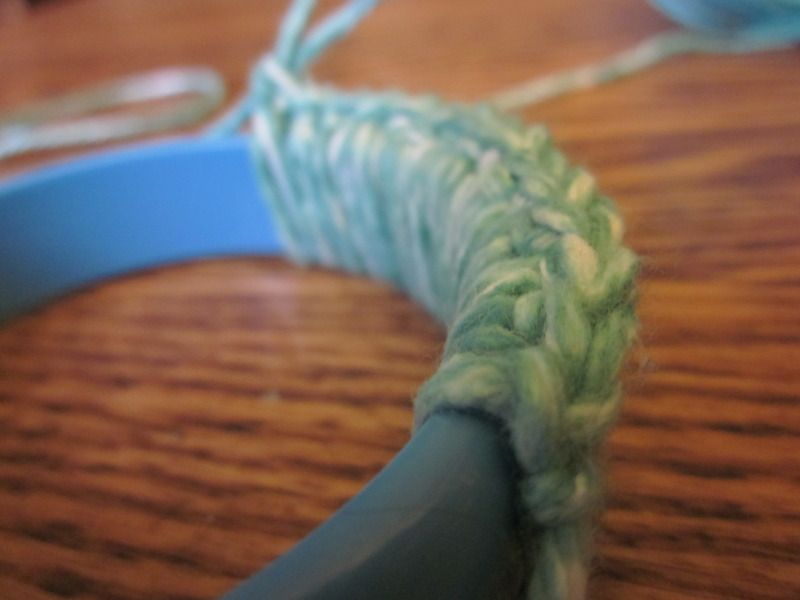 Single crochet all the way around. Be sure all the stitches are snug. When you are done. Sl st into 1st sc.
I then threaded both loose ends underneath all single crochets and cut them. Boom. Done.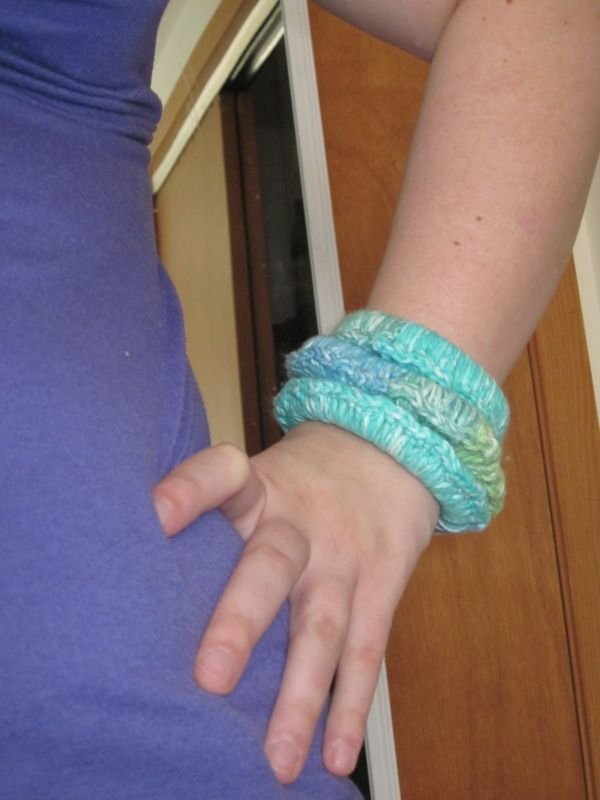 These were so fun, and I actually REALLY enjoy wearing them! If you make some, I would love to see how they turn out.